Diese Veranstaltung hat bereits stattgefunden.
the he(art) of lightness- Flow fundamentals for Contact Improvisation
8. Januar @ 10:00

-

9. Januar @ 16:00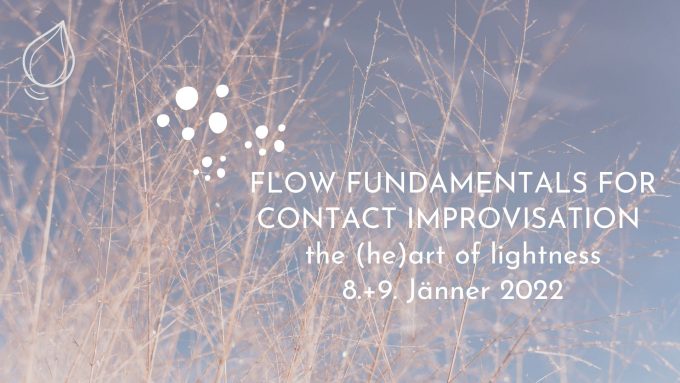 The (he)art of lightness
flow fundamentals for Contact Improvisation
Do you remember that spark of joy that was present inside your heart during your best dancing experiences? Do you wonder how you can free yourself from heavy thoughts and fearful sensations in order to move freely und lightly?
In this workshop I will share with you holistic tools of how to create flow in your own movement as well as in moving with a partner. We will approach basic principles of contact improvisation both from a somatic and integral viewpoint.
Exploring the physical and energetical connection from our heart to our arms and hands will open a new doorway and awareness to enter a ci dance. Researching the connection from arms and legs to the center will lead us to awaken and remember the imprints of movement , that allow our body to organize itself organically.
We will dive into the states of consciousness that allow us to create a soft tone and alive responsiveness in order to effortlessly move with each other across different levels.
you will learn:
Sharing weight and lightness : How we can be be light in the dance while sensing your own and a partners weight?
Floorwork for CI (developmental movement patterns)
Tone modulation
Easy lifts
Register now with christmas coupon, send mail to hi@movingintopresence.at
WANN:
Samstag, 8. Jänner 2022 //10-15h
Sonntag, 9.Jänner 2022// 11-16h
(je 50min Mittagspause, Ankommen 15min vorher, Beginn pünktlich)
WO:
Alte Werkstatt, Lehnergasse 17,
3423 Sankt Andrä Wördern
( öffentlich erreichbar mit S40 von Heiligenstadt oder Spittellau)
BEITRAG: 170.- / 136.- / 144.-
*mit Weihnachtsgutschein
-20% (wenn du schon mindestens einen fortlaufenden Kurs von movingintopresence besucht hast)
-15% (wenn du mindestens einen Workshop von movingintopresence besucht hast oder jetzt zu ersten Mal teilnehmen möchtest )
Anmeldung: hi@movingintopresence.at
(Anmeldung ist erst gültig nach Eingang der Anzahlung von 80.-)
Es gelten die Teilnahme und Stornobedingungen von movingintopresence.at
Es gelten die für Niederösterreich gültigen Bestimmungen im Bezug auf die aktuelle Lage.