Spiraling into Space
13. Mai @ 10:00

-

14. Mai @ 18:00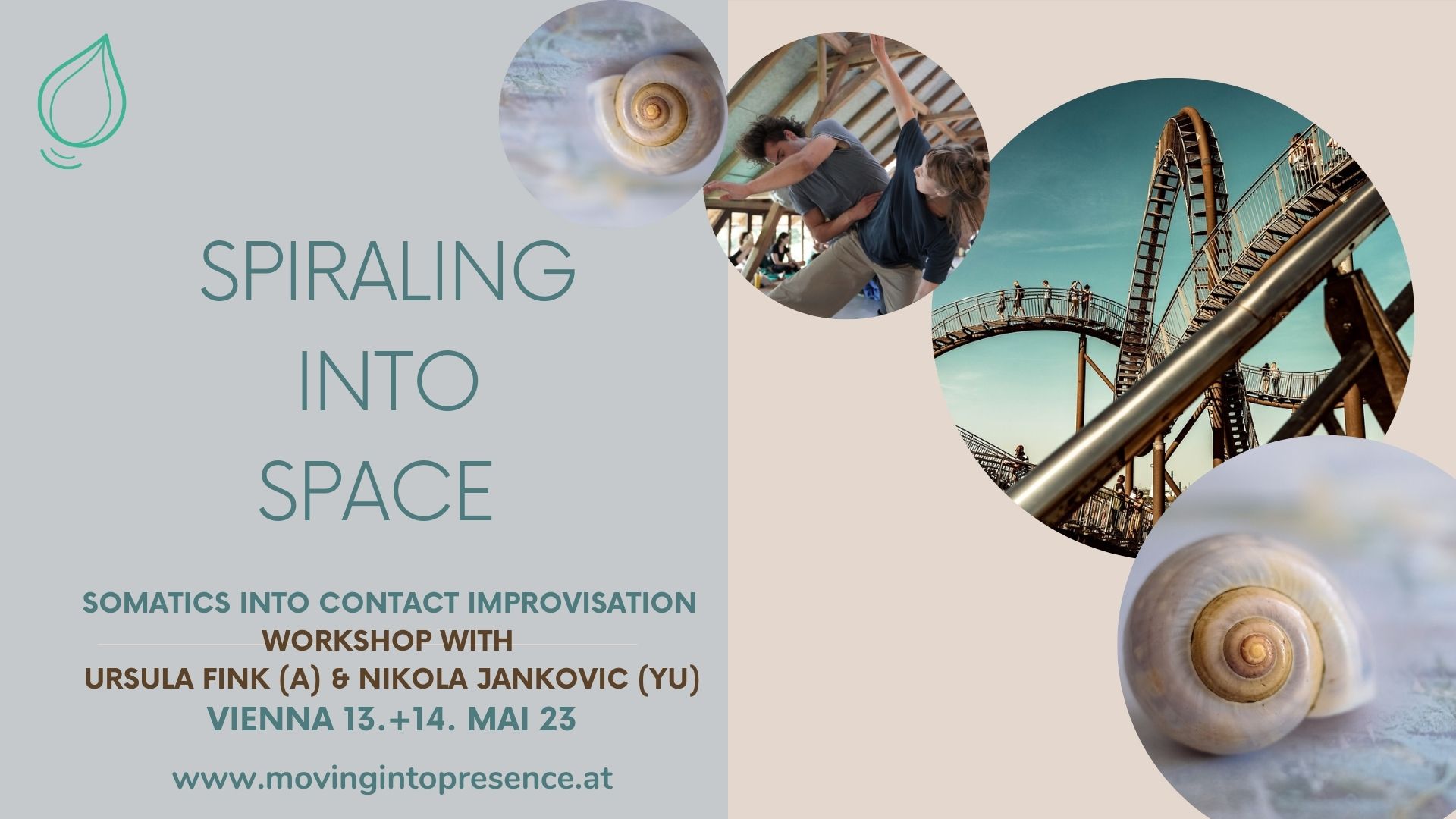 Somatics into Contact Improvisation
with Ursula Fink (A) & Nikola Jankovic (YU)
13.+ 14. Mai 2023
Approaching the art of Contact Improvisation from a somatic viewpoint , we are opening up a treasure box of embodied knowledge and healing practices that are reaching far beyond the dance floor and provide a powerful resource for your everyday life.
Contact Improvisation is more than just "learning a technique". In every dance your system is being informed by another intelligent body-mind that holds all the information that this human being has experienced in life so far. Our networks of fascia are communicating with each other. And our personal history is stored in the fascia-muscular structures of the body and reflects into habits limiting us from experiencing and living our highest potential.
Through somatic embodiment practices ( Feldenkrais and Body-Mind Centering), experiential anatomy, "listening body practise" and other tools we will awaken cellular awareness, we will fine tune movement patterns , explore how movement is organized by our center & spine , how the functional movement of the spine can inform and enrich softness and stability in our dance.
Let yourself be surprised about the bodies inherent ability to communicate, reclaiming 360 degrees of space around you, allowing a connection to the self and the environment on a deeper level, to spiral upwards all the way through the layer of habits and social norms into the unfolding of your true essence in movement.
Ursula and Nikola have known each other for some years and have had many opportunities to dance and research together until they decided to share their love for somatics, contact improvisation and spiritual growth with other human beings. We are soo looking
forward and exited to dance with you!!
Topics will be amongst others Body Surfing & Transitions
Nikola Jankovic
I'm extensively researching and studying movement as self-expression and therapeutic tool. Through the teachings of the Feldenkrais Method, Somatics by Thomas Hanna, Ideokinesis, Body-Mind Centering, Contact Improvisation, Axis Syllabus, Qigong and other modalities I encounter possibilities to facilitate growth within myself and my surroundings.
I'm interested in how somatic and movement practices can improve the quality of our actions and everyday life on all levels.
I believe that by improving and changing our alignment, and not just on the physical level, we are capable of changing our relationship toward the whole world and people in it.
https://nativestate.co/
The Workshop is open level and will be held both in english and german.
WHEN: Sat, May.13th // 10am-5pm
Sun,May.14th // 11am-6pm
(1.5hours lunch break each day)
WHERE: Semmelweißklinik, Studio 11, Hockegasse 37, 1180 Wien
HOW MUCH: 210.-
EARLY BIRD: 180.- till March 15th
(limited places)
bring a friend: 160.-
REGISTRATION: hi@movingintopresence.at