Diese Veranstaltung hat bereits stattgefunden.
Contact Improvisation & Somatics
23. April @ 10:00

-

24. April @ 15:00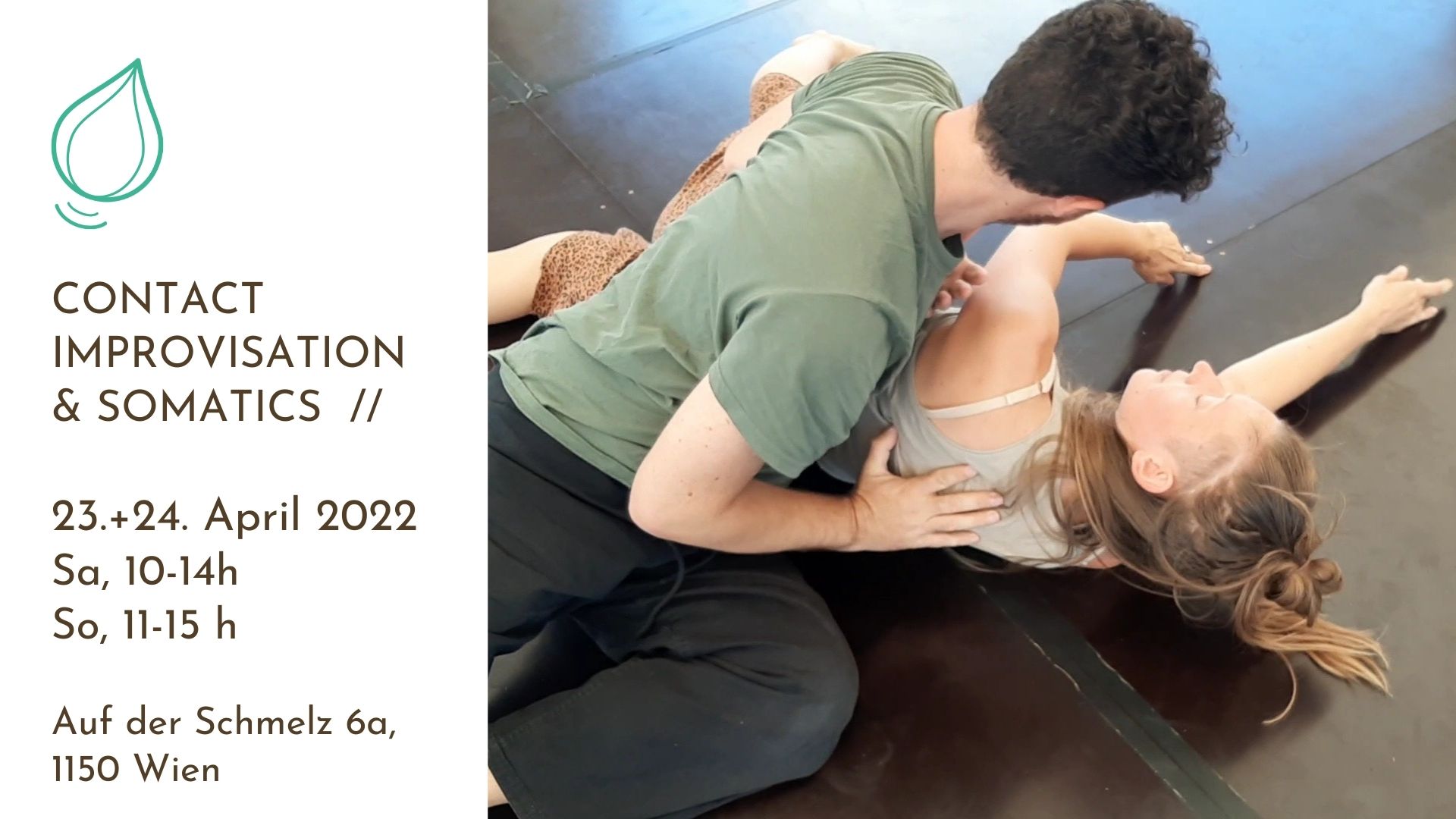 Kontakt-Improvisation & Somatik
Erlerne und Erinnere Prinzipien der integrierten Bewegungsorganisation
um deine CI-Praxis aufzubauen /aufzufrischen
Das Wissen, wie man sein eigenes Körpergewicht im Tanz organisch und effizient organisiert, bildet die Grundlage für das Bewegen mit geteiltem Gewicht, wie wir es in Contact Improvisation praktizieren.
Durch somatisches Forschen (in geführter Improvisation), experimentelle Anatomie und Hands on " Partnerarbeit erwecken wir das Zellbewusstsein und die dem Körper innewohnende intelligente Fähigkeit zu kommunizieren.
Dieser Workshop schafft einen sicheren Raum für die Erkundung und Erforschung von Bewegungsprinzipien, allein (am Boden und im Stehen), dann mit einem Partner und der Gruppe.
Das Aktivieren/Wieder-Erinnern an entwicklungsbezogene Bewegungsmuster ermöglicht dir , dich mit einem Partner mit geteiltem Gewicht weich, dynamisch und dreidimensional über verschiedene Ebenen zu bewegen.
WANN: 23.+24.April
Samstag 10-14 // Sonntag 11-15
WO: Auf der Schmelz 6a, 1150 Wien
Kosten: € 55 Ermäßigter Studierendenpreis (bis 25)
€ 65 Studierendenpreis (ab 25)
€ 75 AbsolventInnenpreis
ANMELDUNG: direkt über die USI Website
__________________
engl.
Contact Improvisation & Somatics
Learn and remember principles of integrated movement organization to build or refresh your practise of CI
The embodied knowledge of how to organize/play with your own body weight in dance organically and efficiently forms the foundation for moving with shared weight as we practise in CI.
we will playfully dive into the principles of how movement is organized by our center & spine, goverened by expansion & contraction, ankering into the earth & reaching into the sky.
Through somatic exploration ( in guided improvisation) and experiential anatomy in "hands on" partner work, we awaken cellular awareness and the body's inherent intelligent ability to communicate.
This workshop creates a save container for exploring and researching principles of movement firstly on your own( on the floor and in standing), then with a partner and the group.
Remembering developemental movement patterns will allow you to move softly, dynamically and three-dimensionally across different planes with a partner with shared weight.
WHEN: April 23rd + 24th
Saturday 10-14 // Sunday 11-15
WHERE: Auf der Schmelz 6a, 1150 Vienna
Cost: € 55 reduced student price (up to 25)
€ 65 student price (from 25)
€ 75 graduate price
REGISTRATION: directly via the USI website