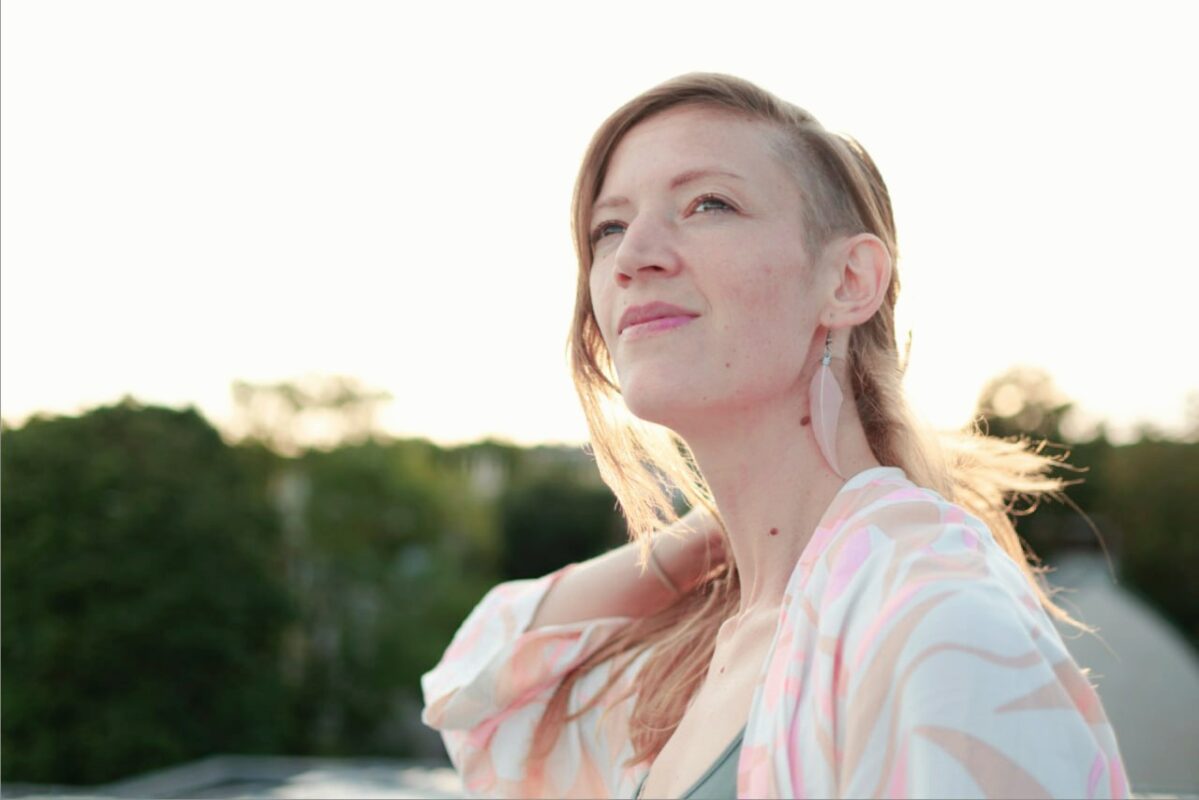 Deutsch
KURZBIOGRAPHIE
Ursula Fink, freischaffende Tanz/Performance Künstlerin; studierte Tanz in Wien (Condance- zeitgenössische Tanzpädagogik & Trainingslabor) und Finnland ( North Karelia College) sowie Körpertheater & Improvisationbei Wilhelm Gansch.
Sie hat ein Masterstudium der Psychologie an der Universität Wien absolviert (Diplomarbeit über Tanztherapie und Achtsamkeit) und ist ausgebildet in Integralem Coaching und anderen Selbstentwicklungspraktiken. 
Mit Formaten wie Listening Body Practise und anderen führt sie Menschen zu einem verkörperten Verständnis ihres Selbst, ihres Lebens und ihrer inneren Essenz.
AUSBILDUNGEN & WEITERBILDUNGEN
Somatic Movement Educator (in Ausbildung)
Psycholgie an der Universität Wien (Mag.a der Naturwissenschaften, // Forschungsarbeit zu Achtsamkeit und Körper)
IntegralCoaching (United Creations, Wien)
Condance: Ausbildung & Performancelab für Zeitgenössichen Tanz (Move on Dancecenter, Wien)
Zeitgen.Tanz (Residency, North Karelia College, Finland)
Contact Improvisation (Nancy Stark-Smith, Martin Keogh, Ray Chung, Jörg Hassmann u.v.a.)
Training Programm Contact Improvisation & Somatik (Jörg Hassmann & Daniel Werner)
Fortbildung Authentic Movement (Soraya Jorge & Guto Macedo)
Körpertheater & Improvisation (Wilhelm Gansch, Max Reinhart Seminar)
Fortbildung "Community Tanz", Tamara Mc. Lorg
Pranayama, Maa Yoga Ashram, Indien 2014, 2017, 2019
Akhanda Yoga, Anand Prakash Yoga Ashram, Rishikesh, 2017
Publikationen:Tanztherapie als Möglichkeitsraum der Achtsamkeit, 2013
ARTWORK
An der Schnittstelle zwischen Kunst und Wissenschaft, Utopie und urbanem Raum beschäftigt sie sich mit Konstruktion/Dekonstruktion menschlicher Wahrnehmung, Identität und Alltagsrealität. Dies ist zum einen Ausgangspunkt für partizipative künstlerische Formate , welche Erfahrungsräume zu somatischer Forschung & Tanz öffnen, zum anderen für performative Installationen und ortsspezifische Arbeiten die sich einer interdisziplinären und variablen Medienvielfalt bedienen.
English
SHORT BIO
Ursula Fink, freelance dance/performance artist; studied dance in Vienna (Condance- contemporary dance pedagogy & training lab) and Finland ( North Karelia College) as well as physical theater & improvisation with Wilhelm Gansch.
She holds a Master's degree in Psychology from the University of Vienna (thesis on dance therapy and mindfulness) and is trained in Integral Coaching and other self- development practices. With formats such as Listening Body Practise and others, she guides people towards an embodied understanding of their self, life and inner essence.
EDUCATION
Contemporary Dance ( Condance, Vienna & North Karelia College, Finland) 

Psychology Masters degree, University of Vienna 

Body-Theater & Improvisation with Prof. Wilhelm Gansch

Axis syllabus (Kira Kirsch, Frey Faust, Baris Mihci)

"Authentic Contact" (Jorge & Macedo)

"Community Tanz" (Tamara Mc Lorg).

Exploring the richness of Contact Improvisation as an artform since 2012 (

Nancy Stark-Smith, Nita Little, Martin Keogh, Ray Chung, Jörg Hassmann and many others) Trainingcamps in Austria, Germany, Switzerland, Italy, Croatia,  Poland, Ukraine, Turkey and India.
Since 2014 she is sharing her work in various settings in Austria and abroad. a.o. in the frame of the education Coaching Skills ( United Creations ), as Warm Up for the formats "Mixed Art" in Brunnenpassage Wien (2014), for PROSA and at div. festivals: Seedcamp, Kautzen (2014) Participation Festival, NÖ (2015), am Cambia Festival , Wien Brick5 ( 2015), Flow of Nature Festival, NÖ (2016).
ARTWORK
At the intersection of art and science, utopia and urban space, she is concerned with construction/deconstruction of human perception, identity and everyday reality. This is on the one hand the starting point for participatory artistic formats , which open up experiential spaces to somatic research & dance, and on the other hand for performative installations and site-specific works that make use of an interdisciplinary and variable variety of media. You can find my artwork here: ursulafink.com 
"The Body Speaks what words Cannot"
Martha Graham